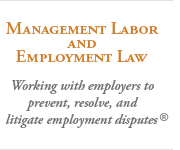 Exclusively Representing Management
Nemeth Law, P.C. is a recognized leader in management labor and employment law – an exclusive area of practice since the firm was founded in 1992. Serving a broad range of private and public sector employers, the firm's outstanding performance in this niche area has earned an "AV" rating from Martindale-Hubbell - "A" signifying the highest level of legal ability, and the "V" denoting a "very high" adherence to professional standards of conduct, ethics, reliability and diligence.
Nemeth Law's exclusive commitment to – and passion for- the practice of labor and employment law sets us apart from corporate law firms. It also affords the firm a variety of unique legal experiences within our employment law specialty and the ability to offer approachable, responsive and efficient service to our clients. We provide in-depth and experience-based legal advice from a legal team where the majority of attorneys have 20 or more years of experience in the field. We serve employers of all sizes, including FORTUNE 500 companies and companies involved in complex multi-plaintiff litigation with numerous counts and voluminous documents. As a matter of fact, our award winning modification and application of a legal software program for complex employment litigation cases reflects our attorneys' belief that legal innovation takes place in and out of the courtroom.
As a boutique labor and employment management firm, Nemeth Law can provide employment litigation, traditional labor law and management consultation services with a client-friendly fee structure. With our focus on employment law, Nemeth Law generally has more attorneys dedicated solely to this specialized area than large full service law firms, where employment attorneys may also practice in other legal areas not related to employment.
When clients select Nemeth Law, they select a firm with a singular focus: to put the client first in prevention, resolution, and litigation of employment disputes.