Education
Master of Labor Law (LL.M.), with honors – Wayne State University School of Law
Juris Doctor (J.D.) – Wayne State University School of Law
Bachelor of Arts (B.A.), Psychology, Sociology, with honors – University of Michigan, Ann Arbor
State Bar Admissions
Licensed to Practice In
State Courts in Michigan and Illinois
Michigan State Appellate Courts
Michigan and Illinois Supreme Court
Eastern District of Michigan
Western District of Michigan
Sixth Circuit Court of Appeals
United States Supreme Court
Patricia Nemeth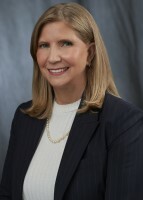 Of Counsel
200 Talon Centre Drive
Suite 200
Detroit, Michigan 48207
Practice Overview
An attorney since 1984, Ms. Nemeth specializes in the labor and employment arena as an arbitrator, mediator, investigator, litigator, consultant, and negotiator. Her areas of expertise include, but are not limited to investigations, religious, ethnic, and gender discrimination, workplace sex, race, ethnic harassment, wrongful discharge, union organizing activities and multi-party lawsuits. Industries served include healthcare, nursing homes, retail, manufacturing, gaming, insurance, and government entities. Ms. Nemeth serves as a certified mediator for all types of civil litigation matters, including employment. She also serves as an employment arbitrator and commercial arbitrator.
Arbitration/Mediation/Investigation
American Arbitration Association; Certified Arbitrator (Employment)
American Arbitration Association; Certified Arbitrator (Commercial)
American Arbitration Association; Certified Mediator
International Mediation Institute; Certified Mediator
State of Michigan, Certified Mediator
Association of Workplace Investigators; Certified Investigator
Title IX Investigator, Certified (ATIXA)
Memberships and Affiliations
American Bar Association, ADR International Committee
American Bar Association, Labor and Employment Law Section; ADR Section; Women in Dispute Resolution Section; International Law Section
State Bar of Michigan, Labor and Employment Law Section, ADR Section and International Law Section
Detroit Regional Chamber of Commerce
American Arbitration Association Task Force for Employment Arbitrations
Attorney Workplace Investigators
Community Involvement
Mosaic Youth Theatre of Detroit, Board member, 2014-2017, Vice Chair Secretary 2017-2020; Board member - present
Former Vista Maria Vice Chair/Executive Board member; Vista Maria's Marketing and Fund Development Committee (with Vista Maria for 12 years). Ms. Nemeth was presented with the Distinguished Volunteer Award by the Association of Fundraising Professionals in 2005 for her work with Vista Maria. In 2011, Ms. Nemeth received an award from Vista Maria for Outstanding Board Leadership.
Graduate, 2004-2005 Leadership Detroit XXVI Class.
Noted Presentations and Publications
Ms. Nemeth has written and co-authored numerous articles, as well as the Annual Survey of Michigan Employment and Labor Law, Wayne Law Review, for Wayne State University School of Law.
Publications and presentations of particular note include:
"The Art and Value of Persuasion in ADR: Trials and Tribulations for Litigators, Mediators, and Judiciary," Panelist, MDTC Winter Meeting, – November 2021
"Usage Guidelines of Marijuana within the Airport Workforce," Airport Council International, 2020 Risk Management Conference - January 2020
"Leaders and Innovators: Women Entrepreneurs and Leadership," Panelist, WWJ Newsradio - April 2019
"2019 Labor and Employment Law Update," Nemeth Law's Raising the Bar – January 2019
"Sexual Harassment Policies and Investigations," ICLE – November 2018
"Managing the Arbitration Process with Pro Se Parties," American Arbitration Association – October 2018
"Resolving Tough Cases through Mediation," State Bar of Michigan, Labor and Employment Law Section Council – June 2018
"The Sticky Question of Salary History," Crain's Detroit Business, Blog – May 2018
"Is the Question of Salary History…History?" Detroit Legal News – April 2018
"Constituents Weigh In On Conyers Sexual Harassment Ethics Probe," Chanel 7 News – November 2017
"A Side Bar with Patricia Nemeth," Michigan Lawyers Weekly – November 2017
"Grit, the Secret to Advancement: Stories of Successful Women Lawyers," American Bar Association – October 2017
"Uber's Sexual Harassment House-Cleaning a Reminder of Need for Visible Policies, Disciplinary Measures," Crain's Detroit Business, Blog – June 2017
"From Flattery to Fear-Looking at Sexual Harassment in Everyday Life," Panelist, WLAM, Wayne Law Annual Meeting – May 2017
"Intensive HR Labor and Employment Law Training Program," Nemeth Law Seminar - August 2016
"Inside the New Overtime Rules: Practical Guidelines for Employers," Nemeth Law Webinar - June 2016
"The On-Demand Workforce: Spotlight on Employee Misclassification," Co-author, Michigan Defense Quarterly – May 2016
"When A Vague Claim of 'Hostile Work Environment' is A Discrimination Complaint," Co-author, Michigan Defense Quarterly – November 2015
"Joint Employer Status, Franchisors and Franchisee – Paying the Cost to be the Boss," panelist and presenter, Bernard Gottfried Memorial Law Symposium – October 2015
"Accommodating Pregnancy in the Long Term Care Environment," HCAM/MCAL Annual Convention – September 2015
"Opinion: Tragedy in Virginia Opens New Chapter for Employers," Crain's Detroit Business, Blog - August 2015
" 'Digital Native' Recruiting Term Can Raise Concerns of Age Discrimination," Detroit Legal News - July 2015
"Starting Your Own Law Firm: Advice From Women Who've Done It," Michigan LELS - June 2015
"Legal Trends: Employer Criminal Background Check Policies," Co-author, Michigan Defense Quarterly – April 2015
"Five Qs: Patricia Nemeth on Employment Law Changes," DBusiness Daily News - January 2015
"Managing Pregnancy in the Workplace," Nemeth Law Raising the Bar - October 2014"
"Legal Implications of Employer-Sponsored Wellness Programs," Co-author, SHRM - January 2014
"The Road to Independence: 101 Women's Journeys to Starting Their Own Law Firms," Contributor, ABA - 2011
"Not Always Black and White," Co-author, Michigan Lawyers Weekly
"The Debate Over Michigan's Right-To-Work Law," Co-author, Employment Law 360
"Unemployment: How to Defend and Prepare," Health Care Association of Michigan
"Minimize Risks While Hosting a Holiday Party at Work," Co-author, Corp! Magazine
"What's your Facebook Password? NoneOfYourBusiness," Co-author, Michigan Lawyers Weekly
"Employer Issues Before and After a Disaster: Is Your Company Prepared," Author, Detroit Regional Chamber
"Starting Your Own Law Practice," Author, Young Lawyers Section of State Bar of Michigan
"Don't Let Election Politics Disrupt Your Workplace," Co-author, Corp! Magazine
"Don't be Blind-Sided by GINA," Co-author, Executive Counsel
"Genetic Discrimination in Employment," Co-author, Michigan Bar Journal
"Annual Survey of Michigan Employment and Labor Law," Co-author, Wayne Law Review, 2005-present
"Seeking Clarity on Michigan Medical Marijuana Law," Co-author, Employment Law 360
"To Blog or Not to Blog: Employee and Employer Guidelines," Co-author, Michigan Lawyers Weekly
Ms. Nemeth has presented employment law seminars and participated as a speaker or panelist for a variety of groups including:
AIG
American Society of Employers
Beazley Group
Channel 4 News
Chubb Group of Insurance Companies
Comcast Newsmakers
Due Process and the Law (Detroit Public Television)
Health Care Association of Michigan
Institute of Continuing Legal Education
Joint Labor Management Counsel
Michigan Municipal Risk Management Association
Michigan Public Employer's Relations Association
National Association of Legal Secretaries
State Bar of Michigan
Traveler's Insurance Group
WDET – All Things Considered
WDET – The Craig Fahle Show
Women Entrepreneurs of Canada
WWJ – 950 Radio
Honors and Distinctions
Lawyer of the Year, Best Lawyers®, 2022
Class of 2021, Hall of Fame, Michigan Lawyers Weekly
Excellence in Defense Award, Michigan Defense Trial Counsel (MDTC) 2020
Elected a Fellow of The College of Labor and Employment Lawyers. Election as a Fellow is the highest recognition by one's colleagues of sustained outstanding performance in the profession, exemplifying integrity, dedication, and excellence.
Rated by Martindale-Hubbell, a rating system compiled by peers in the legal community, as "AV", the highest rating for legal ability and upholding ethics in the legal profession
Best Lawyers® in America – Employment Law-Management | Labor Law-Management | Litigation-Labor and Employment, 2010-2022
Distinguished Law Alumni Award - Wayne State University Law School, 2016
Leading Lawyers, ADR Law: Employment | Employment Law: Management | Labor Law: Management, 2014 to present
"Top 25 Women Business Leaders in Michigan," Super Lawyers 2013, 2015-2018
Michigan Super Lawyers – 2006 to present, including recognition as one of the top 50 Women Super Lawyers in the State of Michigan
Chambers USA, Employment and Labor, 2010-2016
One of the 25 Michigan "Leaders in the Law" - Michigan Lawyer's Weekly, 2009
Distinguished Alumni Award – Wayne State University, 2009
Detroit's Top Lawyers – DBusiness Magazine, 2009-2019
Women in the Workplace Leadership Award – Michigan Business Professionals Association, 2010
One of the 100 most influential women in Southeast Michigan – Inforum, 2008
Labor and Employment Law Delegate to China, 2006
News